National Medical Malpractice Statistics
Medical Malpractice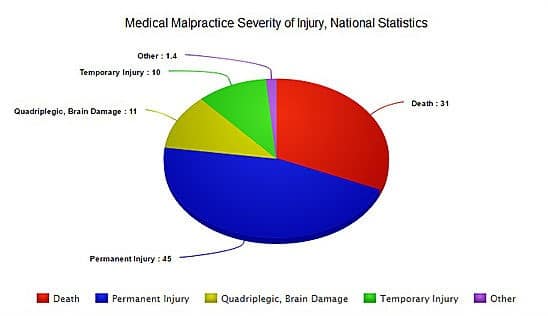 ---
Florida ranks fifth among states in the total amount paid for medical malpractice claims in 2012. The total payouts for the top five states are listed below:
New York $763,088,250
Pennsylvania $316,167,500
California $222,926,200
New Jersey $206,668,250
Florida $203,671,100
Most Cases Still Settle Rather Than Go To Trial
Overall in 2012, the total national payout for medical malpractice was $3.6 billion. This represents a 3.4 percent decrease since 2011. There were a total of 12,142 claims actually paid with 93% of those payouts being settlements and 5% going to trial.
Death And Serious Injury Claims Are Overwhelming Majority Of Claims
The severity of claimed injuries from medical malpractice is shown below. The overwhelming majority of claims brought are for death, permanent injuries, paralysis, or brain damage. Only about 10% of claims were brought for temporary injuries.
From these statistics, the majority of claims involve a significant and life-changing event that took place before a claimant was willing to sue a doctor. The number of medical mistakes or errors that do not make it into these statistics is likely much higher than the number of claims actually brought.
Failure To Diagnose Was Most Common Complaint
The study also considered the types of allegations made by the medical malpractice claimant. Claims related to a failure to properly diagnose or reach the correct diagnosis were 33%. Claims relating to surgery or about surgery were 24%. Claims relating to active medical treatment or intervention for a particular medical condition were 18%. Obstetric claims were 11%. And 4% of claims involved a medication error.
Get A Lakeland Medical Malpractice Attorney For Your Case
If you believe that medical treatment you received fell below the generally accepted standard of care and was medical malpractice under Florida law, please contact a medical malpractice attorney in Lakeland, Florida for a free consultation. Mr. Russo has represented many clients in medical malpractice issues and reviews several hundred cases per year. Please see our case results for further information regarding medical malpractice cases.